Clients that don't initially qualify for a mortgage loan under one of the GSFA homebuyer programs now have access to FREE homeownership counseling.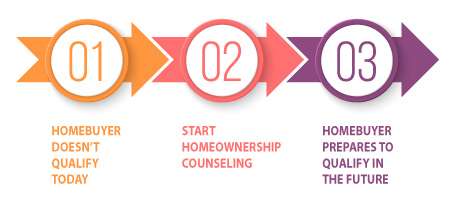 Consumers have access to trained personnel who will answer questions, address concerns, and help clients identify barriers and establish short- and long-term goals to achieve the dream of owning a home.
Lenders can link consumers with pre- and post-purchase financial counseling, in order to improve their opportunities for success as homeowners, while focusing their time and energy on working with pre-qualified individuals.
Benefits to Homebuyers
Assistance in financial planning and preparation pre- and post-purchase.
Loan pre-qualification review before meeting with a lender.
Reduced risk of mortgage delinquency with fundamental budget counseling.
No cost to referred consumer.
Counseling services can be initiated by either the consumer or the GSFA Participating Lender.
Benefits to GSFA Lenders
Opportunity to have an existing lead list vetted, returning more pre-qualified individuals.
Assistance getting potential homebuyers ready to purchase over time, allowing lenders to maintain a relationship and a stronger potential pipeline of leads.
Increase efficiency in the lending process, as the NCC helps the individual buyer not only navigate the process but collect proper support documentation.
Opportunity for additional leads through NCC as a partner.
Reduced risk of mortgage default for referred borrowers.
COST for service sponsored
by GSFA.
Cost for the telephone-based counseling services are covered by GSFA through a unique partnership with National Council of La Raza (NCLR). Services are provided through the UnidosUS Wealth and Housing Alliance. For more information, visit www.uushfe.org/nhf.
Back to top